A New Exhibition of Jesse's Paintings
Local talent Jesse, The Painting Horse, who was recently filmed for an upcoming segment on Channel 5's show Chronicle, will be holding an exhibition of his new paintings in Marshfield, Massachusetts during the month of August.
Jesse's exhibition will open on Wednesday August 1, 2012 at Cravings Cafe, 1853 Ocean Street (Rt 139), Marshfield, MA after lunch. Jesse will avail himself to his admirers at approximately 3 PM and visit for about an hour. The last time he made such a public appearance he was requested to visit again at the end of the exhibition because he was so popular. It would not be unexpected to receive this request again… Of course Jesse would be more than happy to accomodate…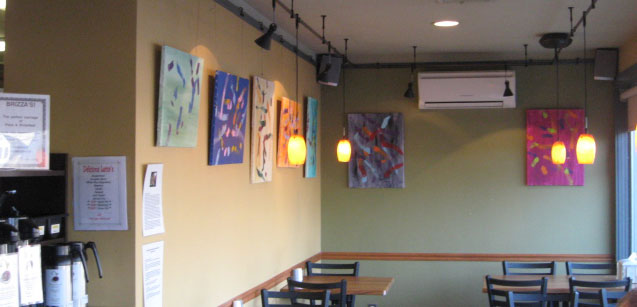 Jesse has attracted significant attention for several reasons. Most obvious is the unusual talent of painting lovely pieces of art on canvas. This handsome horse picked up this unlikely skill during a period of recuperation after an injury. Now back in good health, he continues to enjoy painting and has found it beneficial in many ways. The sale of his paintings helps support local horse rescue Amazing Grace Equine whose aim is to re-home horses who might otherwise face a bleak future. Secondarily, his work is admired because it can stand alone as a lovely addition to an art collection. Finally, Jesse is an extremely personable individual and craves accolades and attention. When Jesse spends time at his reception he gets a chance to meet new friends and have his photo taken with them while folks coo over his good looks and delightful personality. At his last exhibition, 13 of the 17 paintings displayed were sold, a notable accomplishment for any artist.
Examples of Jesse's artwork can be seen online at the TwomblyPublishing Gift Shop where you can find reproductions of Jesse's work printed on shirts, hoodies, water bottles and more.